I wanted to try out a camper van for a vacation to see what it was like to van life it. I found a pet-friendly local option in my area (Seattle) called Indie Campers that rented out vans. They were pretty pricey, but a lot cheaper than like, buying a van. So I went for it. I wish I had paid more attention to the negative reviews of Indie Campers before doing so. Here's an explanation of our negative experience with Indie Campers.
Pickup location bait and switch: 2 hours away
At first, it said the pickup location is at the Seattle Tacoma airport. Great. There's public transit to there, and it's just 15 mins down the road. As the time for the vacation got closer, I got more concerned about details about where exactly at the airport to pick it up. I kept following their FAQ to get details and it said to go to the center of the passenger terminal. That's suspicious. Then, a few hours before pickup (right when the cancellation deadline moves into "no money back no matter what" category) they reveal that ope the location is actually in Enumclaw, a full 1-hour drive beyond the airport, in good traffic. 2 hours in bad traffic. And that's one way, so this adds between 2 and 4 hours to your pickup plans all of a sudden. Slap in the face.
When we got there, there were 5 other customers there, and they all thought the pickup location was at the airport. They flew in and had to spend an ungodly amount of money on an Uber to get there. Super deceitful. After this, we added the spot to the google maps for the next person. You're welcome.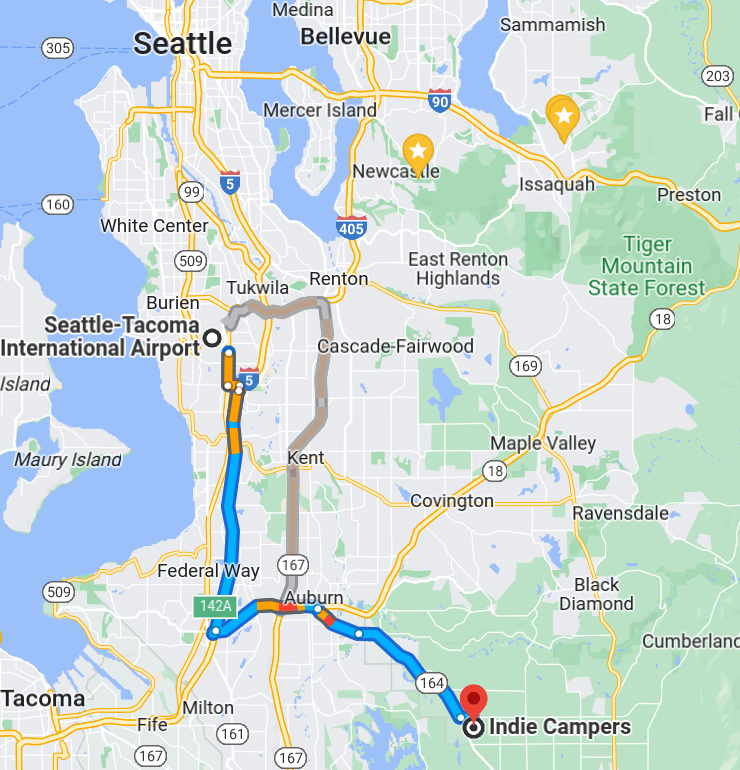 2.5 hour duration to pickup
Continue reading

Do NOT(!) rent a van from Indie Campers