I wanted to try out a camper van for a vacation to see what it was like to van life it. I found a pet-friendly local option in my area (Seattle) called Indie Campers that rented out vans. They were pretty pricey, but a lot cheaper than like, buying a van. So I went for it. I wish I had paid more attention to the negative reviews of Indie Campers before doing so. Here's an explanation of our negative experience with Indie Campers.
Pickup location bait and switch: 2 hours away
At first, it said the pickup location is at the Seattle Tacoma airport. Great. There's public transit to there, and it's just 15 mins down the road. As the time for the vacation got closer, I got more concerned about details about where exactly at the airport to pick it up. I kept following their FAQ to get details and it said to go to the center of the passenger terminal. That's suspicious. Then, a few hours before pickup (right when the cancellation deadline moves into "no money back no matter what" category) they reveal that ope the location is actually in Enumclaw, a full 1-hour drive beyond the airport, in good traffic. 2 hours in bad traffic. And that's one way, so this adds between 2 and 4 hours to your pickup plans all of a sudden. Slap in the face.
When we got there, there were 5 other customers there, and they all thought the pickup location was at the airport. They flew in and had to spend an ungodly amount of money on an Uber to get there. Super deceitful. After this, we added the spot to the google maps for the next person. You're welcome.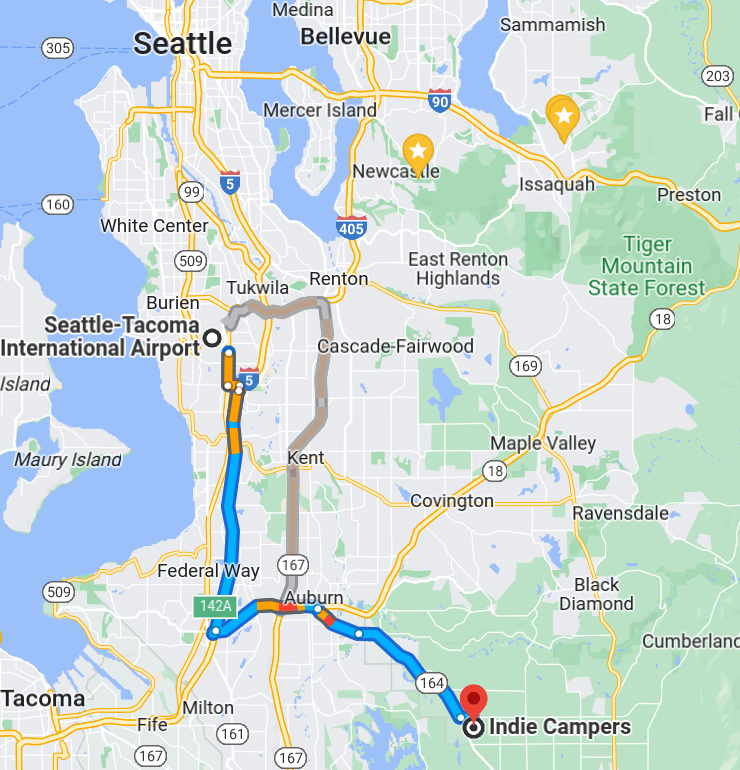 2.5 hour duration to pickup
At the pickup spot, no one greeted us or said anything. We arrived at 2:41pm for our 2:30pm pickup appointment. I just stood there awkwardly for like 20 mins before asking someone else how long they had been waiting. 2.5 hours, they told me. They were missing the show they had expensive tickets to. After 1 hour, the person in charge said hello and said they'd be with us soon. After 2 hours, we got our van. They had run out of linens though, so we didn't get them, though we paid for the linen kit. They were also out of utensils in the kits, but could run somewhere and find some (this pickup location is just someone's house with like 15 camper vans in the yard). We passed on waiting longer for this, we can find our own forks. We hit the road at 4:51pm.
On the plus side, the people working the checkout, while about 10 people understaffed, are certainly nice people and I feel badly for them for how understaffed they are.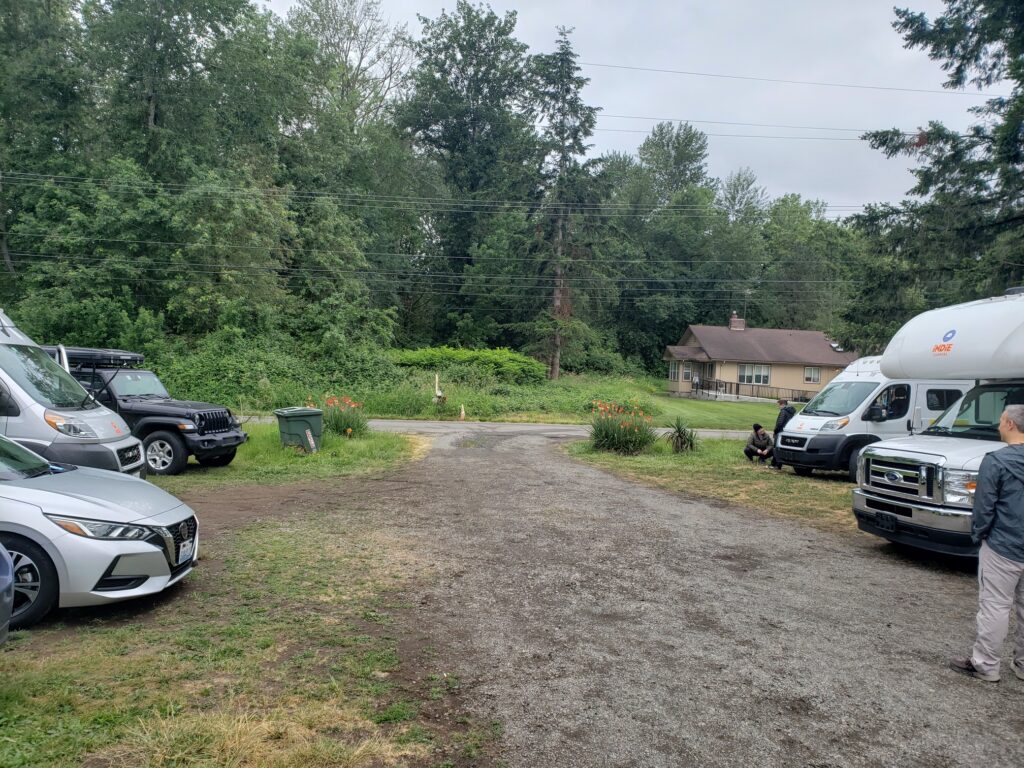 Unhelpful roadside assistance
On the highway, we ran over a bolt. It happens, nbd. We noticed because it was making a noise and vibration until the head broke off. Fortunately, we were close to a tire shop and our first night stop, so we drove 10 more miles. Unfortunately, it was Saturday night and most things were closed on Sunday in the small town.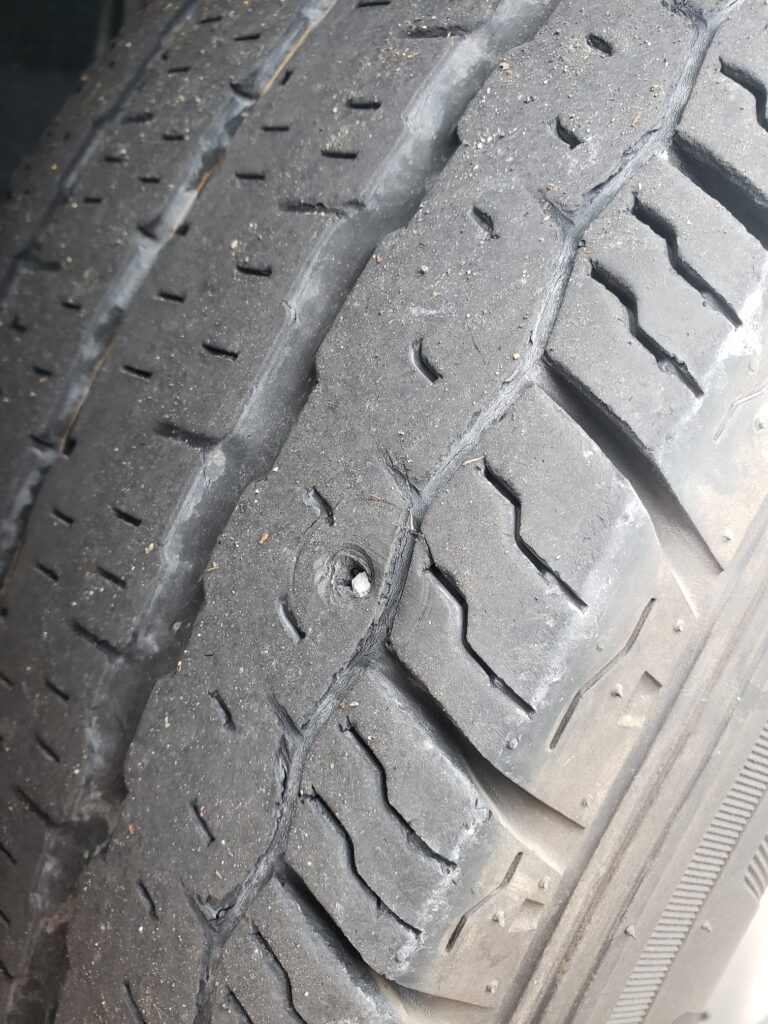 In the morning, we went to the one open tire place in town and contacted the roadside assistance number. The Indie Camper roadside assistance people told us to get on Whatsapp and text a random whatsapp number. So we did. Meanwhile, the tire people evaluated it and said they couldn't safely patch it and couldn't safely just replace one tire because of how unevenly they were worn. The tire people said the alignment must be way off due to the uneven wear pattern. The whatsapp Indie Camper people told us to use the spare tire. Well there's no spare tire on the van we were given, so that was out. We said the tire people could replace the front tires. They said that they'd only cover replacement of one tire and that we'd have to pay for the second tire. Nice. So we decided that since air wasn't leaking too fast to just risk it and continue on our way. We bought fix a flat and there was at least a compressor in the van.
Broken van equipment
At one point we went to use the hose to spray off the dog. Oops the trigger was broken and it wouldn't work.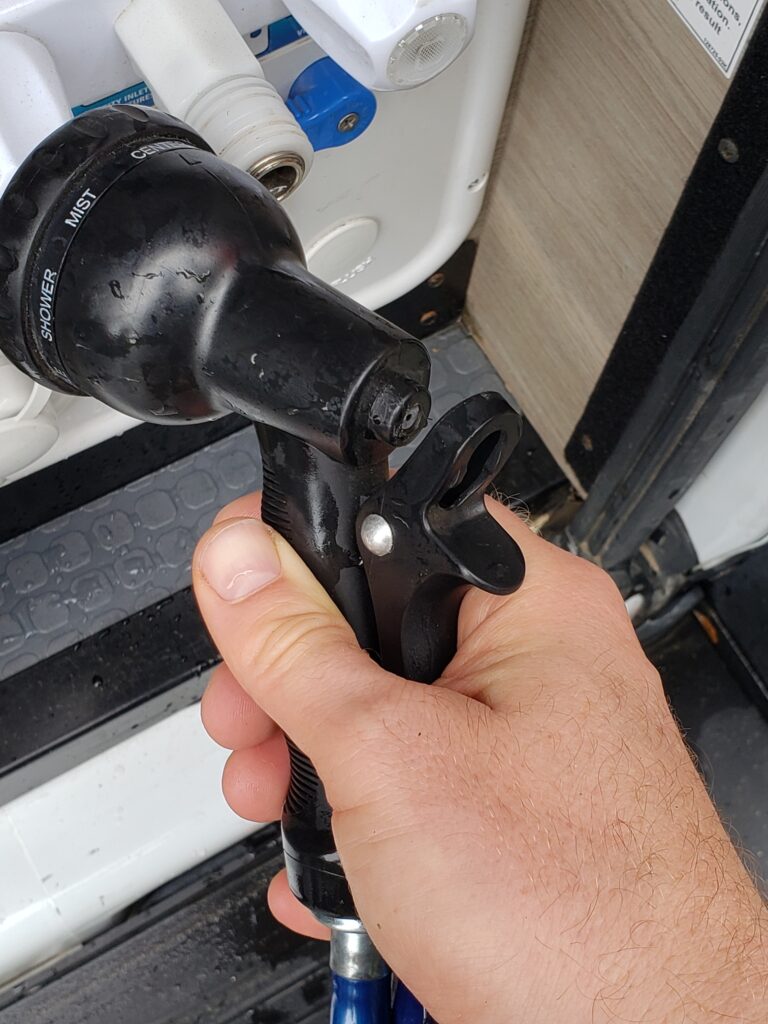 Under the sink had some janky wood: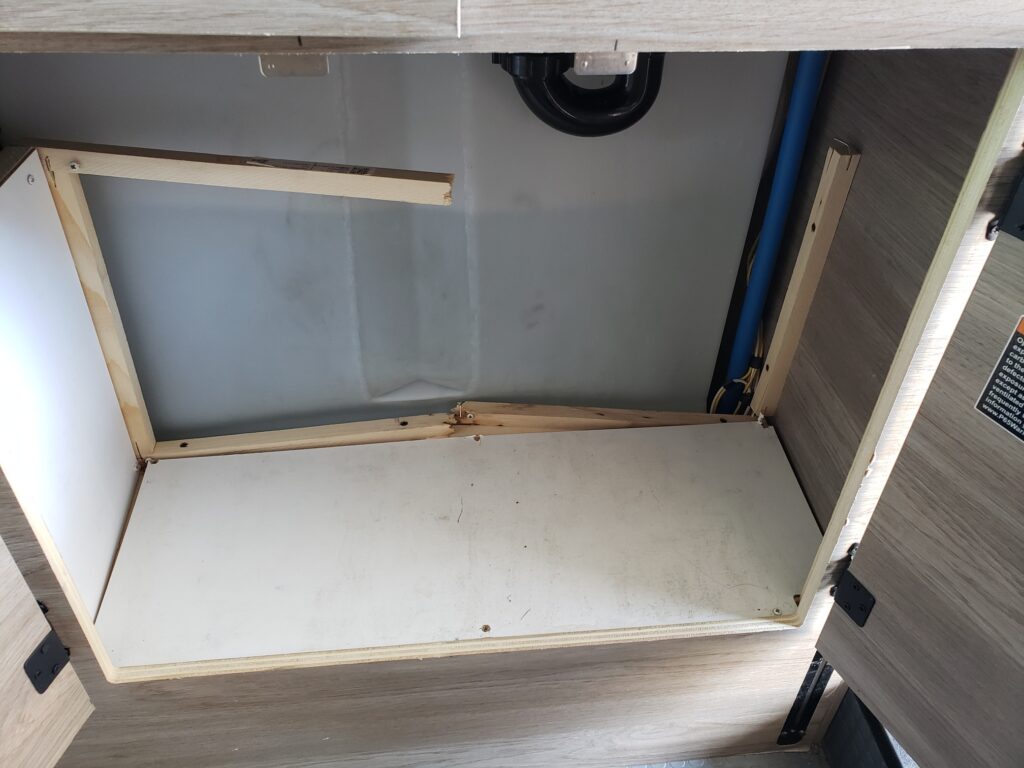 And the drawer was a bit dirty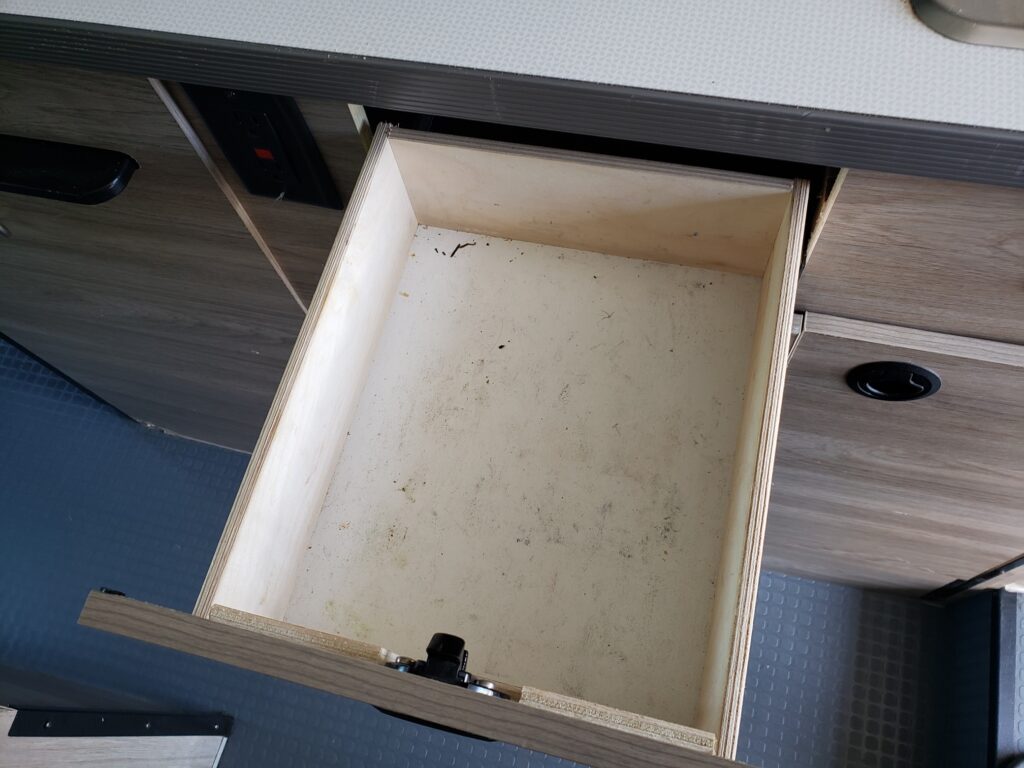 Other than that, the van was in reasonably ok condition.
Drop-off
We e-mailed the depot asking for an early drop off since the tire was leaking more and the low pressure light kept coming on. We got no reply.
Update 24 hours later (Sunday): They charged us an extra $158 with no explanation and no receipt (later it was explained that this is due to exceeding our pre-paid mileage, which was true, but we didn't budget in the extra 50 miles due to the distant drop-off location). I put in a ticket to get my linen pack refunded (we got no linens). I got a reply 24 hours later, and they offered a partial refund, which is fair since we got some of the travel essentials kit. Ok, so that was nice.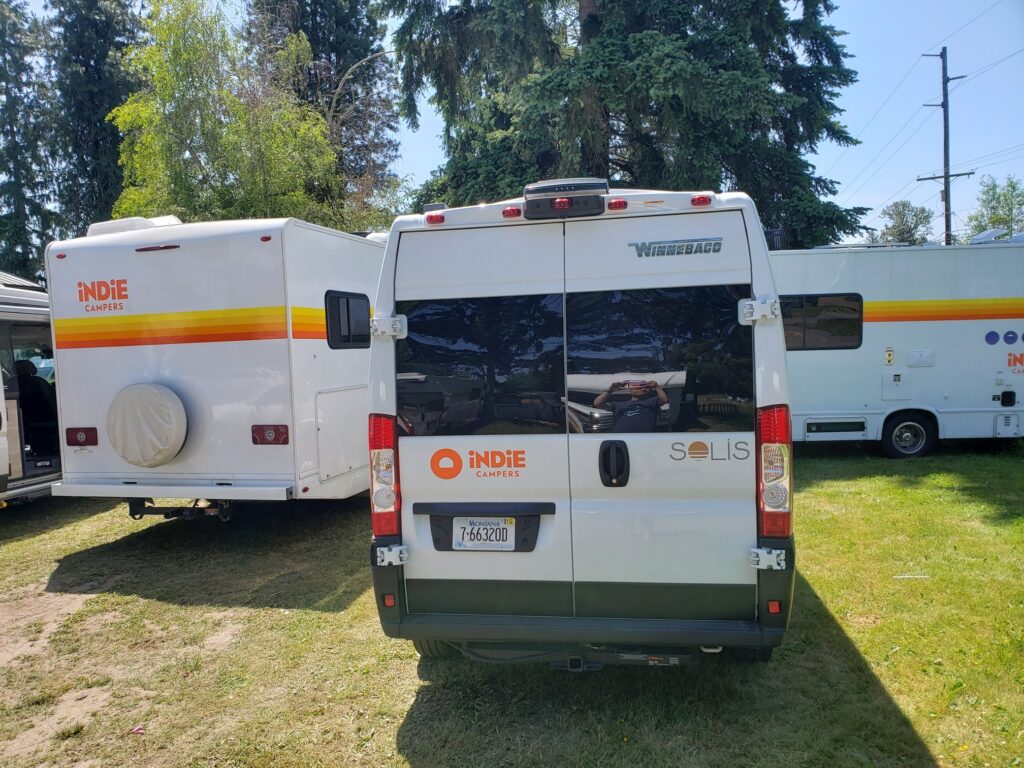 Update 48 hours later (June 19): They challenged my review on TrustPilot and asked for more information, including my reference number, full name, and phone number. TrustPilot said they'd take down the review unless I added the info. I added it. I also edited the review to be less negative after getting the partial refund on the linens.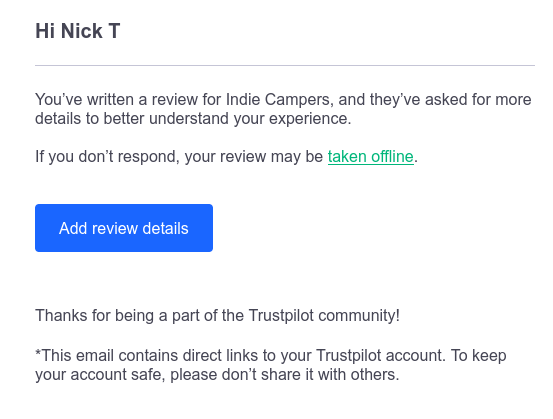 I did just reach out to the chatbot and they said that final documents/reports take 1 week to be sent actually, so I'll get that next Friday.