Or, how to control your A/C from your phone
You may have seen my earlier post about my new home automation setup. Well I just upgraded it! I just finished testing out a new infrared remote control send and receive capability and it is pure awesome. Here's what I can do now from within home-assistant:
Turn on and off my new DeLonghi portable air conditioner from Costco, and set the temperature to whatever
Turn on and off the TV and press any buttons from its remote control
Turn on and off the stereo and virtually press any buttons from its remote control (which I never even had!)
Use an old random blueray remote control to set scenes, turn lights on and off, etc. (basically do anything under home-assistant's control)
This post is about how I did it on my Raspberry Pi.
Update: A video!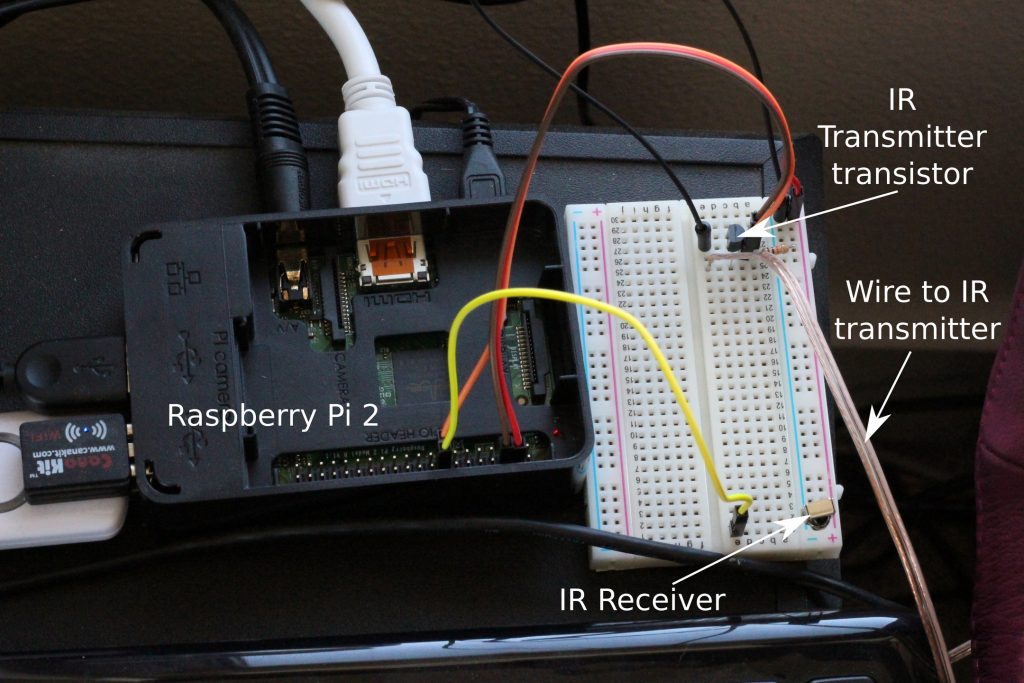 Setting up LIRC and learning the A/C remote
LIRC is a linux library to interface with infrared (IR) remotes. Setting it up, including schematics for hooking the IR receiver and emitter to the GPIO ports of the Pi are well-described here. So following those instructions is the first step.
(2019 Update: See this info, as some raspberry pi internals related to LIRC have changed!)
Then I had to teach LIRC about my equipment. The one I was most worried about was my DeLonghi "Pinguino" portable air conditioning unit from Costco (AN125HPEK). I was able to successfully learn the commands from the remote using LIRC in raw-capture mode. This post was very useful in figuring it out. A/C units send full packets, including information about what mode it's in, what numerical temperature it's set to (not just up and down), etc. Here's what I did:
I recorded a bunch of raw data and remember the order of buttons you pressed. For example, first I had the remote at the maximum temperature and then after I started recording I pressed "decrease temperature" a bunch of times until I was at the minimum:
1

2

3

4

5

6

7

8

9

10

11

12

13

14

15

16

17

18

19

20

8941

4531

505

1699

506

1697
3. Then I used irrecord  in analyze mode to process the raw signals and extract the hex codes:
irsend

SEND_ONCE

DELONGHI

FAN_LOW
blew my mind when it worked. Yay. Excellent progress. I used irrecord in its normal learn mode to learn my Sony remote and it just asks you to name each key before you press it. That worked great. The codes I recorded for this A/C are available here.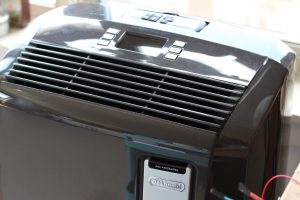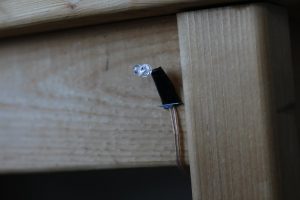 Writing a new home-assistant component for lirc
With what I had up to this point, I could use home-assistant as is and use the shell_command component to control things around my house. This was what was recommended last time a lirc component was requested. I tried it out and it worked great:
 

ac_on

: irsend SEND_ONCE DELONGHI AC_25

 

ac_off

: irsend SEND_ONCE DELONGHI OFF

 

stereo_on

: irsend SEND_ONCE STR-DE205 KEY_POWER

 

stereo_video1

: irsend SEND_ONCE STR-DE205 KEY_VIDEO1

 

stereo_off

: irsend SEND_ONCE STR-DE205 KEY_POWER

 

stereo_video2

: irsend SEND_ONCE STR-DE205 KEY_VIDEO2
But then I got thinking that it'd be cool if I could have a IR remote control various aspects in home-assistant. My wife sometimes complains that she has to go find a phone to turn on the lights. If I had a remote laying on the table it'd be really easy to select scenes and whatnot. So I thought I'd write a lirc component.
Conveniently, there's a python-lirc package in pip that brings lirc capabilities into Python3. So making a component was just a matter of interfacing between that package and home-assistant. I whipped up a component and tested it out by having KEY_1 turn on a scene and KEY_0 turn all lights off. It works! SO AWESOME!
I will open a pull request and try to get this feature into home-assistant for all to enjoy.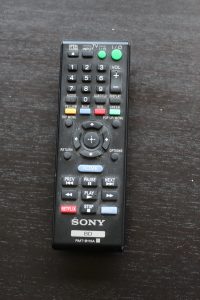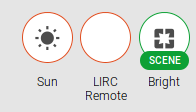 Now I can make rules that, you know, turn on my tv, my stereo, and put up a fireplace video like this:
1

2

3

4

5

6

7

8

9

10

11

12

13

14

15

16

17

18

19

20

21

22

23

- alias

: Full fire sequence

   

event_type

: ir_command_received

     

button_name

: X_KEY_NETFLIX

  

service

: script.fire_sequence

       

- service

: shell_command.fire

       

- service

: shell_command.tv_power

       

- service

: shell_command.stereo_line_in # turns on stereo
So awesome. I have submitted the code as PR 2139 and maybe it will go in the next release.
I've started toying with the shell_command to allow it to build the command from slider input so I can set the A/C to any value I want. Will open another PR if this guys doesn't.