One of my first memories is a vision of lying near my dad in the basement in the mid-1980s while he endlessly soldered away at some big project. Later, I spent a lot of my childhood messing around with the product he was assembling: a Hero Jr. robot. This was a educational personal robot, intended to be your "friend, companion, and security guard." Here he is:

Hero Jr. has a sonar, infrared motion sensor, light sensor, sound sensor, radio-frequency remote, drive motor, obstruction sensor, and a RS-232 serial port. His out-of-the-box features included a security guard mode, alarm clock, poetry, singing, and (my favorite) the ability to explore around the house, often while singing America, Daisy Bell, or Little Miss Muffet.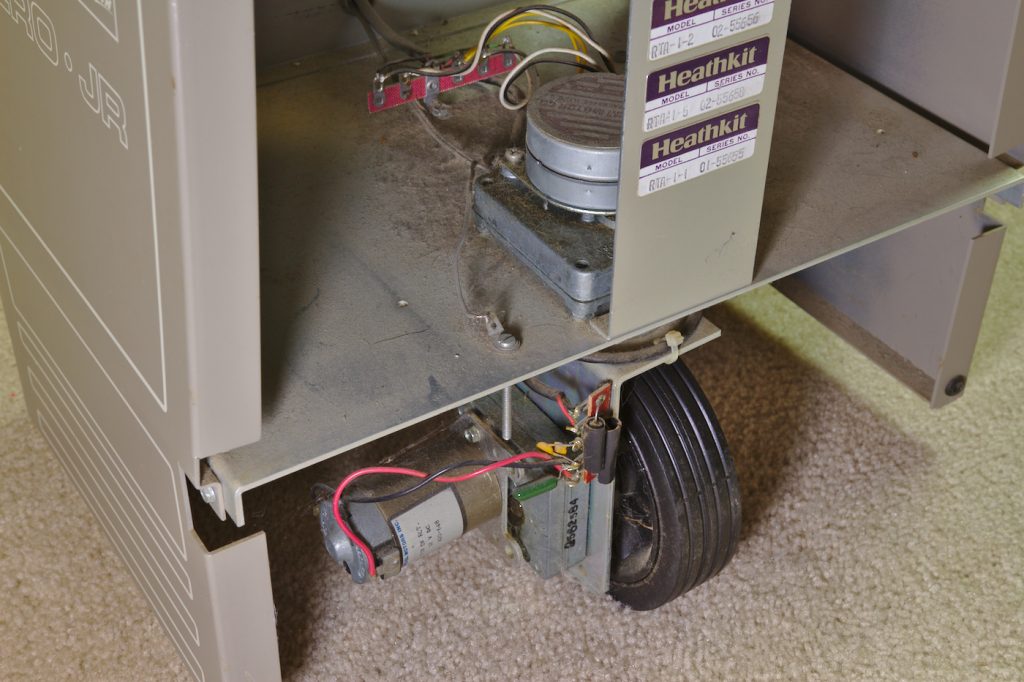 Hero Jr. was created by the Michigan company, HeathKit, which is famous for designing and selling high-quality electronics kits since 1926. (but is now, sadly, gone UPDATE: It filed for bankruptcy in 2012 but is still operating today to some degree). As with most HeathKit products, Hero Jr. came as a kit, you had to mount and solder every component onto the circuit boards and install the motors, speakers, and sensors. It cost around $600.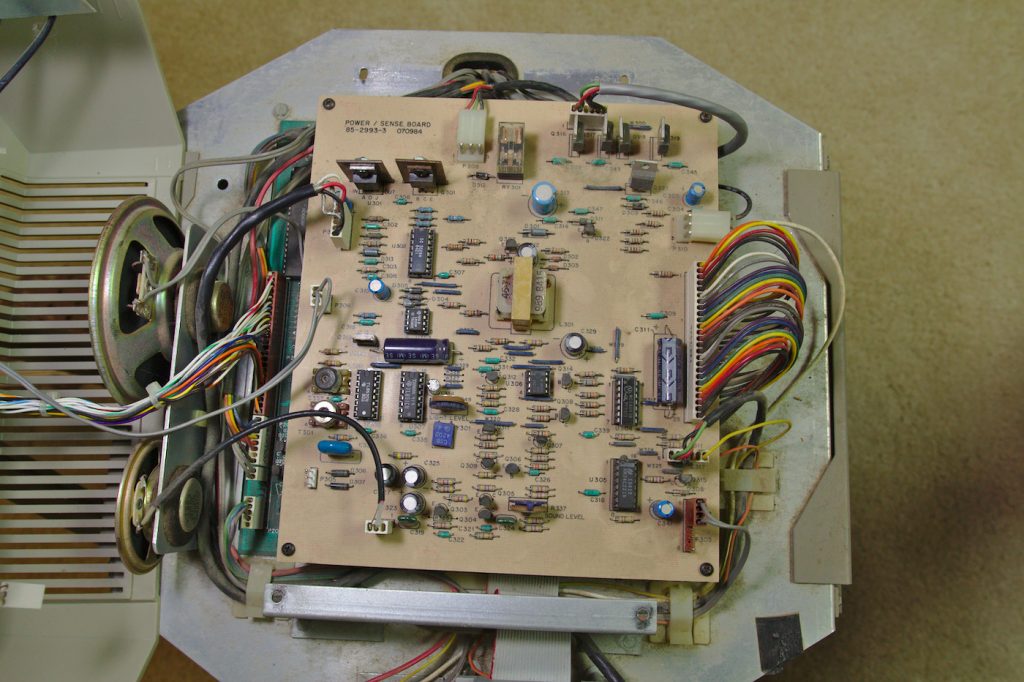 His sensors are pretty solid, even a few decades later. My sister and I had a game where we'd try to sneak past him but he usually caught us. He also has a Cowboys and Robots game where you shoot him in a darkened room with a flashlight and he tells you if he got you first. Fun times. Here's his Security Guard feature with hilarious singing when you get caught. (You could literally hook him up to a transmitter that would actually summon the police, but we never did this.)
The possibilities really get exciting with Hero Jr. Programming Language (HJPL), a simple set of instructions interfacing directly with the 99 CPU registers that you could enter, line by line, on the simple hexadecimal keypad of the robot itself. PCs were just becoming at thing at this time so my dad never experienced the BASIC option over the serial port. Below is a video of me entering and executing a simple counting sample program from the manual. It explained that we're initializing a constant value of 0 in register 1 and then speaking the contents of register 1 and then adding a constant to the contents of register 1 and then gotoing up a line. Legend has it that my dad used to program it to walk around the house looking for a heat source and then reciting a love poem (assuming it had found my mom). Sometimes it accidentally recited the poem to the dog.
It'd be interesting to try to couple Hero Jr. with a Raspberry Pi and use it as part of a more modern personal assistant. When you get a text, it could hunt you down in your house (heat seeking) and tell you what it said. It'd still be a novelty obviously, but its great voice synthesis (driven by the Votrax SC-01A voice synth chip) really could add some charm to the uniform landscape we have today. That'll have to be a future project.
Hero Jr. is powered by a 1 MHz Motorola 6808 CPU and can have up to 24 kB of RAM. The CPU board is below the power board, pictured below.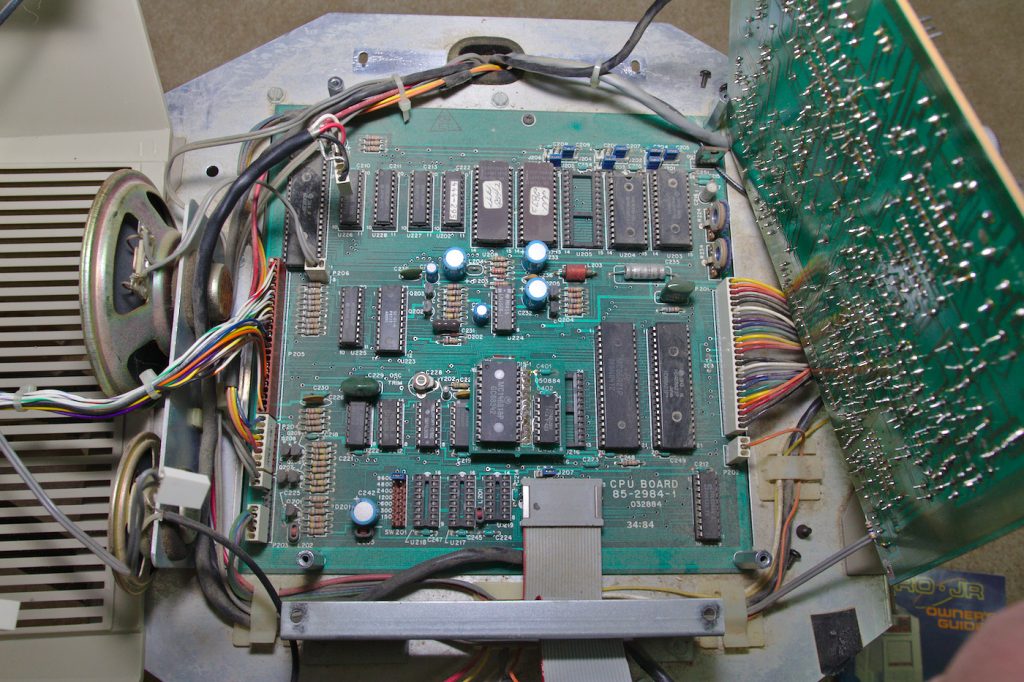 Hero Jr. has an add-on slot where you can hook in different ROMs to give him different capabilities. Here are a few of them: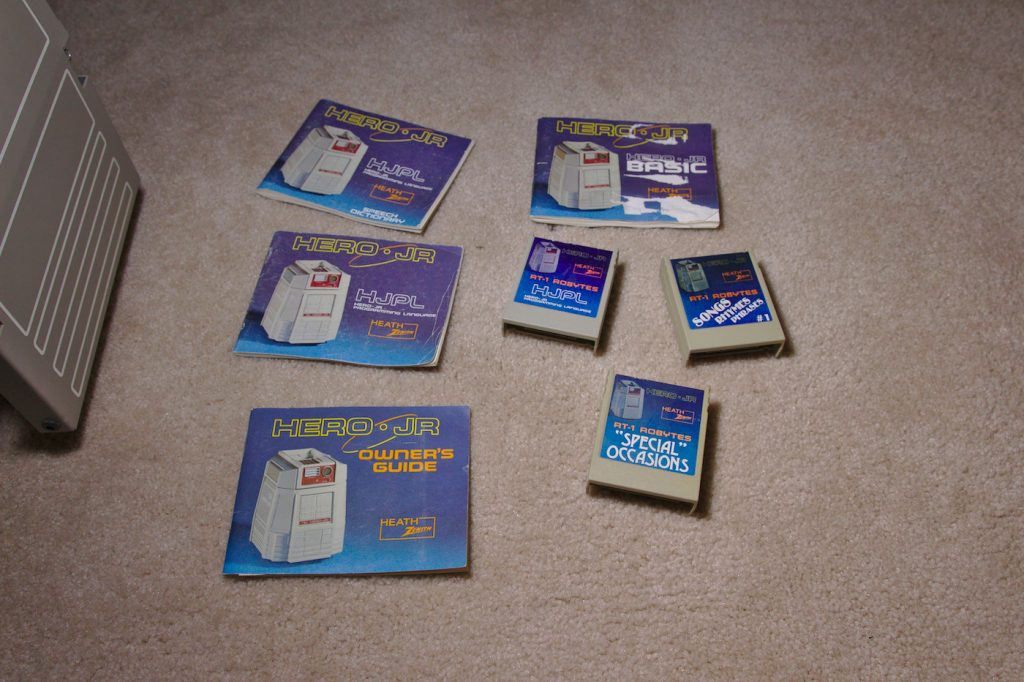 It occurs to me that it's been a long time since one single person knew all the details of a modern microprocessor, and exponential complexity and miniaturization seems to have left us hopeless in any desires to explore the magic of the computer/phone/camera/GPS/stereo/theater in our pockets. This goofy robot reminds me that it's always possible to explore curiosities and fiddle around.
Given the relative sophistication of this guy, I'm honestly a bit surprised we don't have much fancier things today. The Smart Speaker and robo-vacuum things are neat, but I think it could become much more interesting. It's inspiring to see what was done in the 1980s.
See Also