I decided to purchase System 76's new Lemur Pro 14″ laptop when it was announced and wanted to show it to you and give you a review.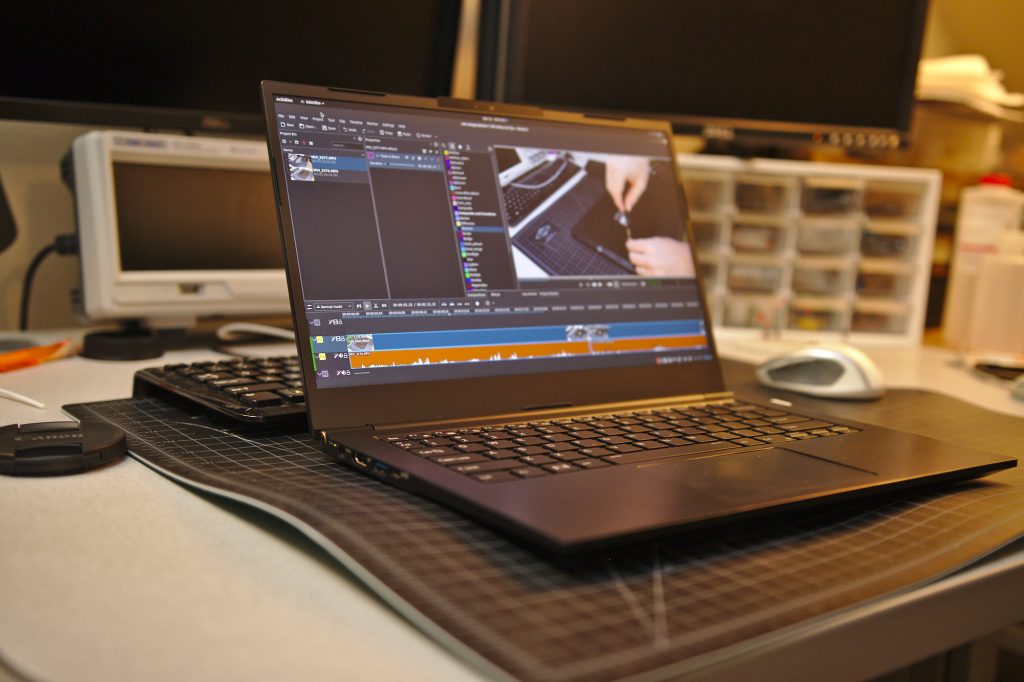 Starting point
I've been using a 13.3″ 2013 Sony Vaio laptop for a few years and it's now missing 3 keys and the screen blinks on and off, so I figured it was time. I wanted a good light-weight machine that would last a few years, run Linux, and have excellent battery life.
I had eyed System 76 before, but reviews kept talking about poor battery life. I've grown to love my old machine's 75 Wh battery on vacation, on long flights, and, during pandemic quarantine, on the porch. I just wanted something with lots of RAM, a reasonable processor, a big battery, and a nice size. Here's the old machine:
Enter the Lemur Pro
In my search, I ended up subscribing to the System 76 subreddit and caught an early announcement of the Lemur Pro. It had the exact specs I wanted. I signed up for updates and soon got a special e-mail saying it was ready to order. So, I figured, let's do this.

Unboxing
I actually don't really like when people use eco-unfriendly fancy cardboard to make a box. This box was really well-done.
Exterior
When I first picked it up, I loved it. The more I've been using it, the better I've liked it. The keyboard is excellent (granted I'm coming from one with three missing keys). The touchpad is great. The look and feel and build quality all seem amazing. Even the USB ports are really tight.
Someone mentioned the hinges on a previous model were relatively flimsy. These hinges are made of aluminum. I will keep you posted about how well they stand the test of time.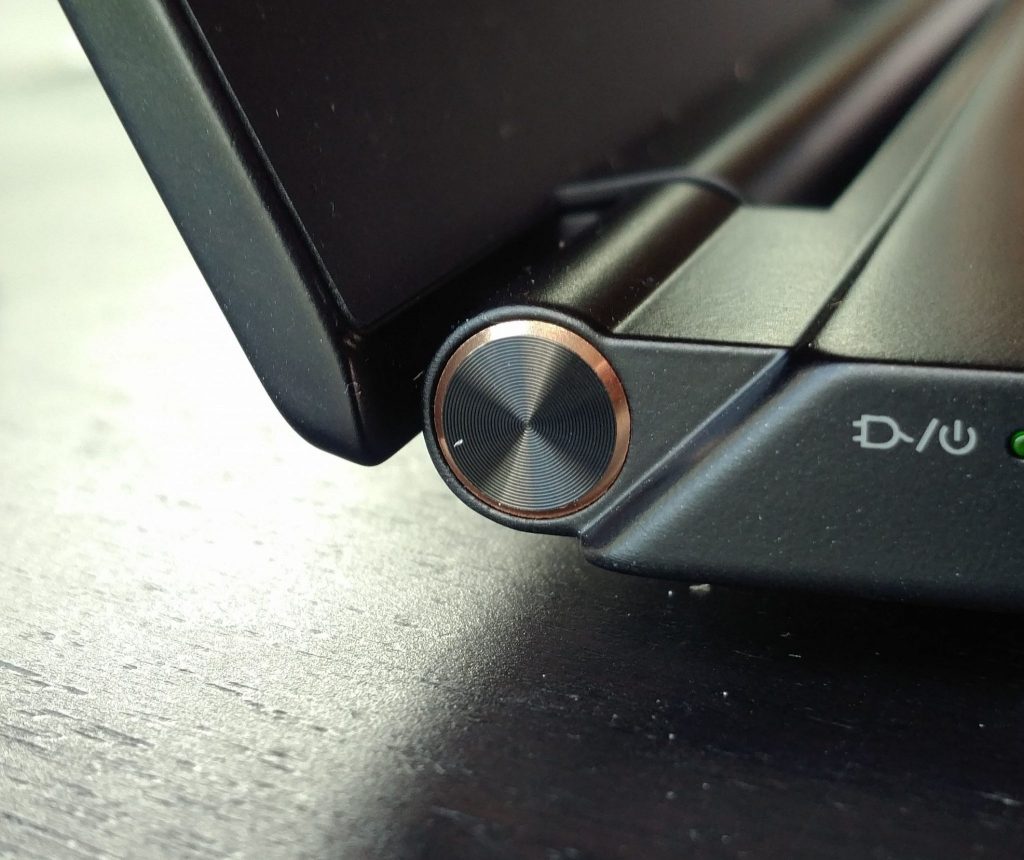 Opening it up
I opened it up to add a stick of RAM. It was the easiest computer to open I've ever experienced. Completely trivial. I love it.
Software
As a long-time Ubuntu user, this is an easy transition. The OS is snappy and wonderful. I installed all my favorite stuff and tried out some video editing with KDenlive and some raw photo processing with Darktable. It's snappy and glorious. I really, really like this laptop. This is exactly what I was looking for and it was announced at just the right time.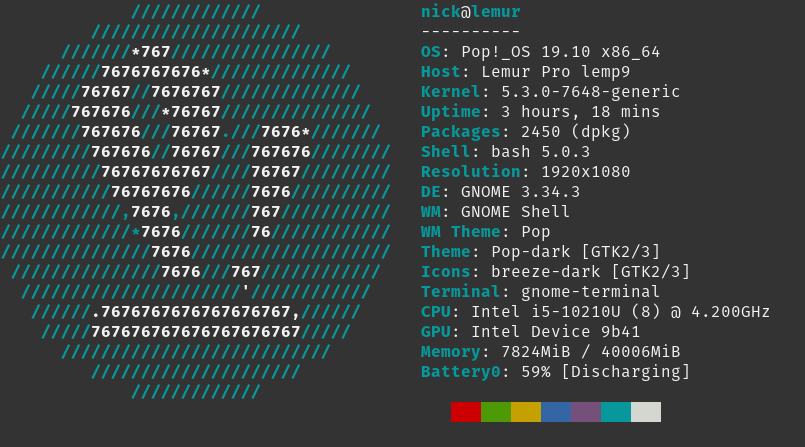 And take a look at that battery!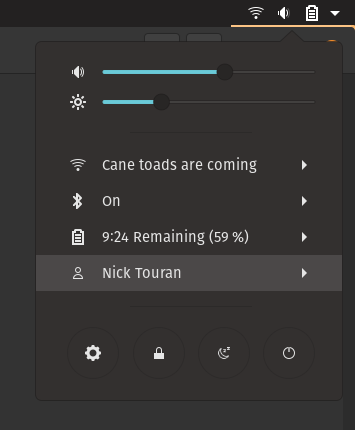 Power
Here are some power statistics from my first day. The steep parts of discharge are when I was running the CPU hard. In the evening I turned down the screen and it flattened out a little. Then the long gap was on standby overnight. Then it fell to zero on another standby, which was one of the quirks where I don't think it really went all the way to standby. The charging rate is 35% of full capacity per hour. Since the battery is 74 Wh, this is equivalent to 26 Watts direct. The charger says it does 19V at 3.42A so 65 watts. Oh but the computer was on at this time, but mostly on standby.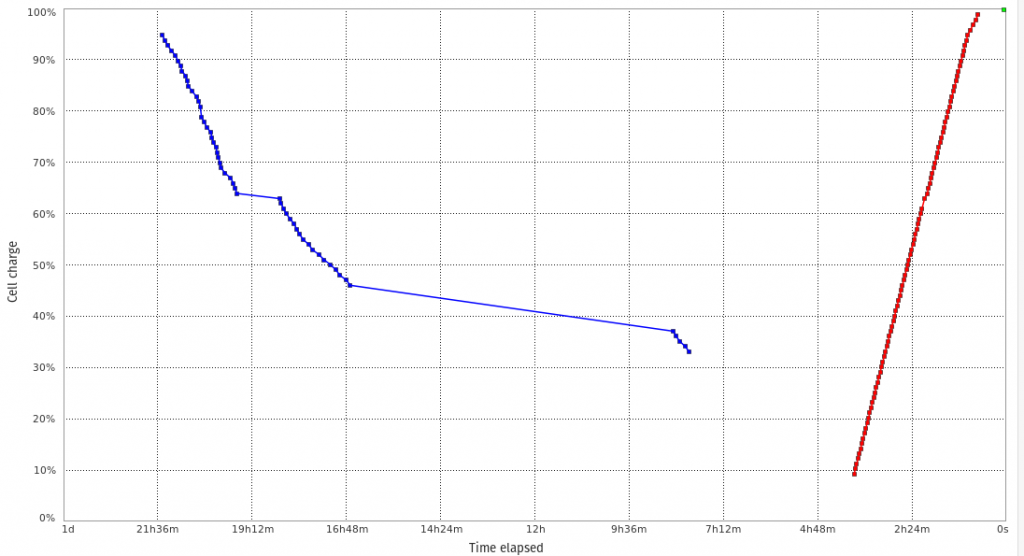 Here's the cute little charger that it comes with: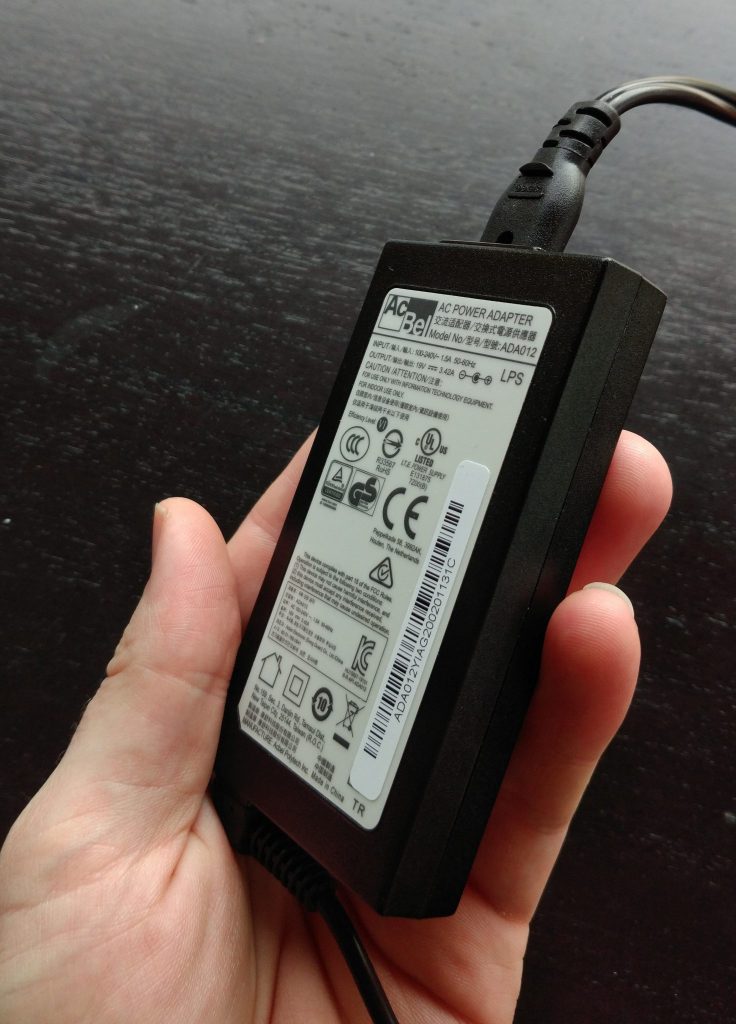 I also got a random 65 Watt USB-C charger as my second power adapter off of Amazon. It plugs in and works great.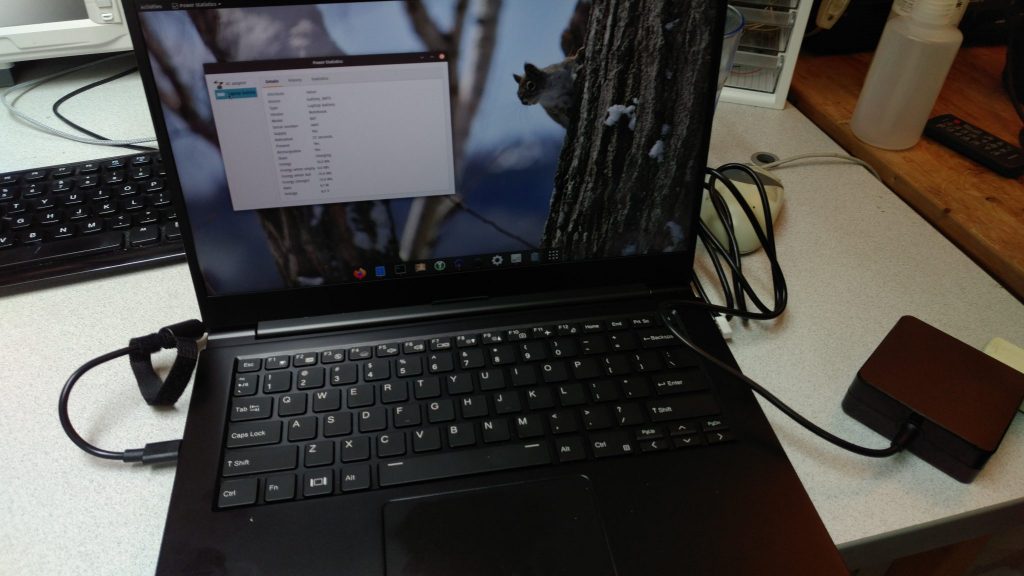 Sound
Back in 2011 I had a multimedia laptop that actually had a little 1″ subwoofer. This laptop is not like that. It has speakers that sound fine for alerts and voice. Playing hi-fi music over them is not going to blow anyone's mind. I will definitely prefer running my Snapcast stuff to real stereo equipment rather than playing tunes on this computer.
Here's a recording I made with the microphone
Quirks
Updates: As I use it there are a few things I notice. I will report as bugs if they persist.
Sometimes the power button doesn't seem to work to turn it on. It just sits blank for a while. If I press it a few times, it eventually works
One time I closed the lid and it suspended. 4 hours later I picked it up and it was warm in the back right and the battery had run all the way down. It may not have suspended perfectly
(UPDATE 2020-05-02 A PATCH IN THE FIRMWARE FIXES ALL THESE!! I cherry-picked the commit and flashed it and it is perfect now. That will likely land soon in the official firmware) If you type 123 really fast (basically with all three keys down at once), the 3 doesn't show up. I've seen this on other keyboards before. It often has to do with something called Rollover.

If you type the word "build" relatively quickly, the L does not show up and you end up with "buid".
If I type "once" quickly, I get "onc".
"noise" gives "noie"
"gives" gives "give" (lol just figured this out now)
I'm sending in a support ticket to see if this can be adjusted
This appears to be related to this github issue about ghost keys

Not really a quirk, but the awesome coreboot firmware that this machine comes with doesn't have any obvious BIOS options that you may be used to exploring on a new PC. It has boot order, and that's it!
Power drops about 7% overnight when the lid is closed. Is that normal? This actually bothers me a little. Other computers I've had didn't fall that far… did they? Maybe they did. There is an open issue for turning on deep sleep in the firmware. I will keep an eye on it.
Still absolutely love it!