Note: This is a thowback post, revitalized from the old partofthething.com where it was posted by me in like, 2004. I took out most last names.

My car:
My car is the ultimate car ever. It's the greatest thing on Earth. No, really. It is. Sure, sure it's old but that's not what matters anymore. It's the past that counts…and the stereo system. I grew up in this car. Yes sir I did. I always sat in the back right seat driving all over the place since I was seven years old. Usually Tom Petty was playing. you see, it used to be my mom's car. When she got a new one, it became my sister's car. And then, it became my car.
Kick-Ass features:
Amazing, post state-of-the-art stereo system (not even invented yet)
Great interior
No functional problems (knock on wood)
Still great 4WD.
700 Watt Peak Inverter with 25′ extension cable (an AC outlet)
Decked out in tools, survival equipment
Flux Capacitor on board
Tools/equipment
Baby's packed with stuff. All stored neatly away and out of sight to a normal passenger.
    Jumper cables
    12VDC Air compressor / emergency light / jump start pack
    First Aid kit
    Rope, bungees
    spare gloves, winter hat
    Spider wrench
    rechargeable 500,000 Candlepower flashlight
    emergency money
    screw drivers
    3 quarts of extra engine oil
    ice spikes for shoes/boots
    2 AA batteries
    ice scrapers
    emergency cell phone
    Altoids
    2 pair of Aviators
    Gasoline preservative
    25′ extension cable with AC power
    Adapter for giving terminals to cigarette lighter
The Stereo System
The Jeep's coolness now revolves around it's amazingly cool sound system.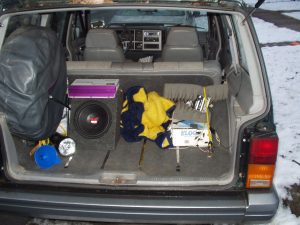 Onboard computer system core (+4300 songs currently available)
Blue backlit LCD display
Aiwa CDC-C227 YU receiver
10″ 100 Watt Rockford Fosgate Punch Subwoofer
600 Watt Subwoofer amp
Aux input
6 piece Jensen speaker system (not including sub) 2 mids up front, 2 combo mid/tweeters in back, 2 tweeters up front.
Major Themes of the Car Computer Audio System
Awesome
Cheap
Ghetto
Overview:
This system is amazing. I mean, it rocks. I can be driving along watching my graphics analyzer go to town and play any of thousands of songs with a quick peck at my up-front keyboard. I can load playlists on the run, check shuffle status, anything instantly. I can play almost any song that comes to my head instantly without shuffling CDs or anything. It has great sound coming from the super highs and deep lows.
The Story
It all started when my tape player stopped working. I needed it for my adapter to play CDs. I went out and got the Aiwa receiver from Crutchfield. I gave the old deck to Stephanie Fettig for her Wrangler. She just wanted radio.
Then came the subwoofer. I was at Karl R's house and his mom said: "Oh, hey Karl, you should see if we can get rid of that sound thing in the basement." Karl said, "Oh yeah, hey anyone want my old subwoofer? My new car has one built in. You'll need an amp though…"
"I'll take it, sure!" said I.
Adam R then said: "Hey, I have an old 600 Watt amp in my basement that I was going to try to explode by running AC through it, you can have it I guess."
Super. So I had it installed a day later or something. It sounded great. Later on, summer came by…
Mid-summer 2003, 10:00 PM Adam R called, bored. We talk about stuff and I mention that I've always sort of wanted like, a computer in my car to play songs. He thought it sounded like a good idea. We talked it over and decided it could be done in my car, since I have an auxiliary input and stuff. We decided to try it right then. So we planned on meeting at Wal-Mart in 20 minutes. I called Dave and told him to come too. I bought an inverter at the store and we came back to my place. I got an old computer's motherboard out and set it in the first box I saw in the garage, a Klogs box. It fit perfectly. We set it up and cut some holes and ran some wires up the middle of my car there in my driveway under the thousand watt floodlights. Soon, we had a monitor in my trunk and were trying to get it all to work right. And then…with the Microsoft sound of windows 98 reverberated through the trees, it was born!
My spare time during the next week was spent running the wires correctly through the trim, out of the way, getting the horrid ground loop that comes with powering stereos off of inverters to go away, installing the button and switch in my dashboard, and tweaking the computer software to work how I wanted it to. The thing worked, but it wasn't robust. I got some foam egg stuff from Meyer's to keep the hard drives from being exposed to big shocks. I hadn't quite learned all the methods of working the computer without the monitor at this time, so whenever I'd show a girl, it wouldn't work. but when I showed my friends or myself, it worked fine. Go figure. I then spent a week working on the crazy idea of having it voice activated. It worked, to a point. I had it so I could say: "computer! winamp. Song search. led zeppelin. stairway to heaven. play" and a few seconds later, it would play. It really was amazing and fun, BUT, there were two problems. First of all, the computer was too slow to process voices. There was almost a 10 second delay between saying play and hearing music. It was a pain. Second, when the car is running, there is too much noise for my microphone to properly pick out my voice. Especially if music is playing or people are talking. So voice is out. Keyboard is in, and it works great. Voice will come when the technology gets a bit better. give it five years.
Fall 2003:
By fall, I had figured out everything. I knew how to make the thing turn on every time. Everything was cool and good.
Christmas Break 2003-2004:
I was bored. Really bored. I decided that I wanted an LCD display. I spent a whole day looking up info on them. Then I decided I'd buy one. So I did. I had it shipped to Ann Arbor because I knew it'd take that long. In the meantime, I made playlists and simulation LCD setups on my computer. By the end of break, I had everything set up and configured so that all I had to do was plug the thing in. My parents then decided to fund the project for my birthday.
Ann Arbor 2004:
Wed Jan 07, 2004: All my parts were in the dorm but it was late at night when I got them. I plugged everything in and it worked instantly off my computer in my room. It was really cool.
Thu Jan 08, 2004: I brought the car computer to the room and got everything working. I then soldered in the (harnessed) power connections for the backlight and let it rip. Everything worked great and I practiced using it for a while with a screen. Then, I went to the car and ran the LCD wires through the trim. Fired it up and everything worked. Ever since, I've been knowing how awesome I and my car stereo system really are.
2005
Nov 19, 2005 So over the summer, a girl broke the screen on her laptop. She gave it to me and it's now the car computer. The only condition was that I had to keep the photo of the horse taped to it. So now I have a 1.5Ghz laptop running everything instead of the somewhat unstable carboard box computer. Sweet!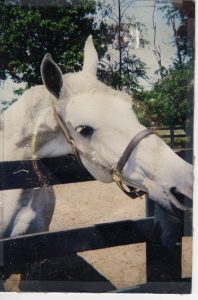 I also added super-sweet toggle switches and lamps.
The computer:
Windows 98 533 Mhz Celeron Desktop Cased in a cardboard Klogs box
>Update Nov 2005: HP Presario 1.5 Ghz laptop! Windows XP
Case fan, CPU fan
2 Western Digital Caviar Hard drives, 20 GB, 10 GB
Runs Winamp 5 with Crystalfontz software and a winamp plugin to drive the LCD
Interfaced through wireless ethernet Controller using file sharing and VNC remote control.
Modularity/theft deterrence
The computer audio system (CAS) was designed to be modular. The computer itself can be removed or installed in less than thirty seconds. Just plug in the power, keyboard, and LCD data wire to the computer, attach the power-switch/ground harness to it's mate, and plug the LCD backlight power in to a free power plug from the computer and you're good to go. It's even easier to take out. The LCD screen is also modular. The serial cable unplugs and the backlight power cable is harnessed. So I can remove it when I don't want it stolen or frozen. The subwoofer and computer can be completely hidden from view with a big U of M blanket. The receiver has a detachable faceplate. Whenever I leave the car on the street for an extended amount of time, all anyone could see walking would be an upside-down keyboard and a serial cable. Who'd steal that?
Approximate cost breakdown:
Receiver: $125.00
Subwoofer: you: $100.00 me: $0.00 (thanks, Karl R)
Sub Amp: you: $100.00 me: $0.00(thanks, Adam R)
Computer: you: $200.00 me:$0.00 (thanks, My High School)
Sub cables: $35.00
Switches, buttons: $10.00
AC inverter: $45.00
LCD Screen: you: $73.00 me: $0.00 (thanks, mom and dad and birthdays)
Hard drive shock absorbers: you: $6.00 me: $0.00 (thanks, Meyer Ace Hardware)
Total cost for me: $215.00
Total cost for you to copy me: $694.00 haha! that sucks
Accidents:
1998-1999 [redacted] ran the Jeep over a tree and stump on [my road] She was driving too fast listening to a song and a big curve came. she slipped on wet leaves. She got pulled out by some guys in a truck. Damage report: Screwed up the steering and did underbody damage that is evident from the back left seat. Cost money to fix the alignment.
2000: I was driving out to Adam and Mike's on Cedar Valley Rd. in the winter following their Explorer and Karl's Subaru. Driving too fast in Full-Time 4WD, I lost control and went into a ditch randomly along a straight away. Went under a barbed wire fence, hit the right-side fender on a fence pole. Damage: broke of right side view mirror, dented fender, scratched up hood horribly. Broke off antenna also. Repairs: total of 36 dollars. Re-did the paint at R owned Hyde Equipment. The paint guy matched the paint and Adam, Mike, Mr. R, and I fixed it all up. Bought a used mirror for 30 bucks and a radioshack antenna for 6 bucks. Did all labor myself.
Early 2001: I had been babysitting theoretically till 9PM but my parents came home at 11PM. I had planned on going to R's where not only Karina was, but also Ami M. and a lot of other cool people that I wanted to see. They got home and mom said I could go. It was not too snowy out but pretty cold. I decided I was going to make it in 10 minutes, which is ridiculous. I was on the dirt part of Bear River Rd. in like, 7 minutes which is also ridiculous. I went over a hill and when it leveled out, I noticed it was very bumpy and icy. I tried to slow down to no avail and I ended up going into a snow bank which sucked me in and I hit a tree, spun around backwards, and went up on the passenger side. I was hanging by my seatbelt with the music (Nelly Furtado – turn out the lights (remix)) playing. I turned off the car, swore a lot and tried to work my way out of the car. and assess the damage/ get help. I found a no-service cell in the back and tried to plug it in but I couldn't get it on. I later realized that it was because the key was not turned and the cigarette lighter had no power. I saw that no windows were broken and my bumper was dented. Anyway soon, a snowmobiler came by and I hopped on. He asked if I'd been drinking. I said, nope. Got to R' place and saw a lot of really skinny girls. "Uhh, are there any guys here?" said I. "Hey nick." Said mike. "Umm, I kind of rolled my car and I need your help." So we went and woke up his dad and got his truck. We easily pulled it back over and I drove it home. Damages: broke of mirror AGAIN, dented bumper badly and messed up the brackets that hold the bumper on. Broke some fiberglass in half and cracked the grill. Repairs: Ordered new mirror and bumper: 130 bucks. Put them on myself (that was hard. the bumper needed me to drill it and stuff, whew!) never got a grill, never fixed the fiberglass. 🙁 It's ok though. The bumper is new and chromed out like woah.
Winter 2004: I rear ended a honda at low speed. No damage done.
Later that winter: Dave rear ended a honda with a rabbi in it. Bumper damage resulted.
Other: no other real damage. got stuck a few times and stuff in snow.
Work done:
Summer 2005: I Reshaped the bumper to perfection, Lester fixed the rear brakes so I stop rear ending people.
Lots of brake work
New axle joints (2003)
New tires (approx 2000)
New rear struts, shocks, and muffler (2001)
oil changes and gas
Current Problems:
Has a major oil burning/leaking problem.
Leaks air out of tires.
Body problems.
A/C does not work
Rear wiper does not work at all. (the defrost wires work though, except for one)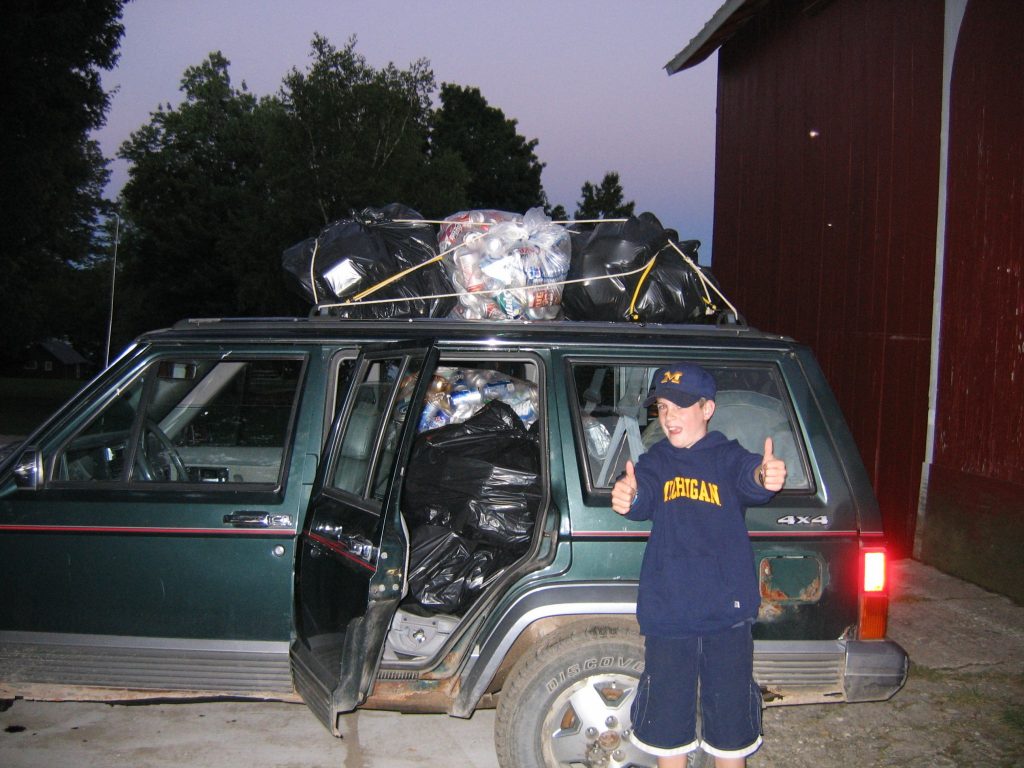 Epilogue
The Jeep lives on! I had to drive to Idaho in 2005 and didn't think the 1991 JEEP CHEROKEE LAREDO would make it. We sold it for like, several dollars to a guy on Beaver Island, where I'm sure it still is today, running just fine.
I still use the subwoofer amplifier that Adam gave me and the sub box that Karl gave me. The original subwoofer itself has passed on as must we all when our time comes.
After that Jeep, I got a 1997 Jeep Cherokee and moved all the stereo equipment and flux capacitors into it. It lasted until it got totaled by a vandal in my garage, but that is another story.